Dmitri Ivanovich Mendeleev
Dmitri Ivanovich Mendeleev was a Russian chemist and inventor. He formulated the Periodic Law, created his own version of the periodic table of elements, and used it to correct the properties of some already discovered elements and also to predict the properties of eight elements yet to be discovered.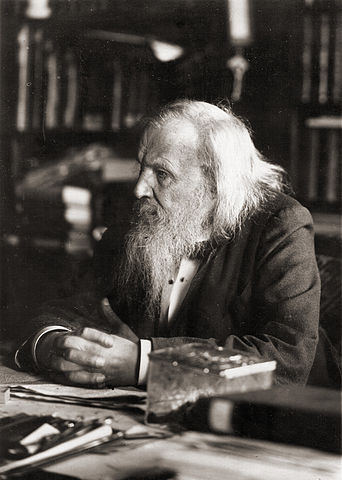 In 1863 there were 56 known elements with a new element being discovered at a rate of approximately one per year. Other scientists had previously identified periodicity of elements. John Newlands described a Law of Octaves, noting their periodicity according to relative atomic weight in 1864, publishing it in 1865. His proposal identified the potential for new elements such as germanium. The concept was criticized and his innovation was not recognized by the Society of Chemists until 1887. Another person to propose a periodic table was Lothar Meyer, who published a paper in 1864 describing 28 elements classified by their valence, but with no prediction of new elements.
After becoming a teacher, Mendeleev wrote the definitive textbook of his time: Principles of Chemistry (two volumes, 1868–1870). As he attempted to classify the elements according to their chemical properties, he noticed patterns that led him to postulate his periodic table; he claimed to have envisioned the complete arrangement of the elements in a dream:
I saw in a dream a table where all elements fell into place as required. Awakening, I immediately wrote it down on a piece of paper, only in one place did a correction later seem necessary.
See also:

Tags: